Seven, maybe eight years ago, I get a phone call from an
unknown number. I pick up. "Hi Makram, this is Omar Rahbany", says the voice
from the receiver. We have a brief conversation on the phone and we agree to
meet at Omar's house. A few nights later, we meet and we get acquainted with
one another. He tells me about his family and their musical heritage, I recount
to him how I picked up the double bass (I had only been playing for a couple of
years back then) and which kind of music I listen to. Then, he plays a DVD of
the Lebanese Philharmonic Orchestra performing a piece of music he had written.
I hadn't the faintest idea that I would be playing in that orchestra some years
after that moment. Omar tells me about his projects and in order to demonstrate
to me what he's been working on, we proceed to his piano room. There he sits
down and begins playing some complex rhythms in 5/4 intertwined with beautiful
melodies. He plays and he plays, and the more he plays, the crazier it gets,
and the more I think: "There's no way that I can play this music!" Omar
finishes the piece at hand and we move back to the living room. "Do you think
you'd be interested in playing this kind of music?" he asks. "I'm not sure… I'm
pretty busy these days, and I'm not really sure I can find the time to practice
this kind of thing" I reply. We continue to chat for a little, and I leave the
house feeling like I've escaped a difficult situation. But, it might true what
they say: "One cannot escape one's destiny".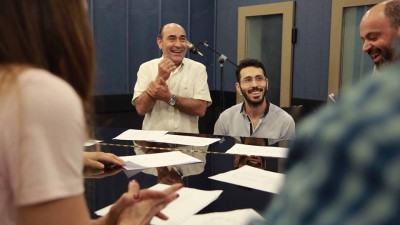 In the year 2015, I joined the Lebanese Philharmonic
Orchestra. I had never imagined I'd be an Orchestra musician, especially not
right after coming back from Holland and New York where I had worked for two
years to complete my Master's degree in Jazz. Some weeks into the season, our
principal guest conductor, Jordi Mora, walks in, and we begin to rehearse
Brahms 1st Symphony, and Richard Strauss' "Death and
Transfiguration". On the third day of rehearsals, I notice a young man sitting
behind Mora with a score of the pieces we're playing in his hands, his eyes
studying intently what his ears pick up from the orchestra and Jordi Mora's interpretation.
He looked very familiar, and it took me a few minutes before I recalled my
visit to Omar's home and came to the conclusion that it was him. I walk up to
him during the break and we reintroduce and catch up.
During Mora's second visit, all three of us drove up to my
village (Btekhnay) and spent the day walking in the mountains, discussing ideas
about life and music. As we had lunch at my uncle Jamal's house, I was asked
how Omar and I knew each other. I mentioned the story above and I finished by
jokingly saying "Yeah, I just ran out of that house as fast as I could… I
couldn't play that stuff back then". "And, now? Can you play it?" asks Jordi
Mora. Without any thought or hesitation the word 'yes' came out of my mouth.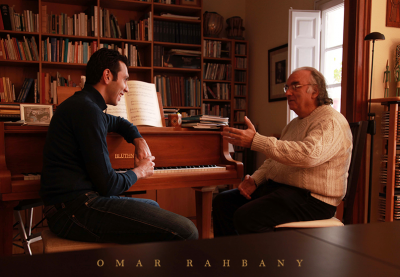 Another year passes, but Omar and I remained in touch. One
day we drove to the Barouk Cedar Reserve because we both share an affection for
nature. As we sat on bench beneath the massive ancient cedar trees, he informs
me that he's been in contact with The Beirut Chants Festival, and that he will
most likely play his Piano Concerto with them in December. To me, it was great
news, because Omar is a serious, hard-working, well-formed musician and human
being; it can only make me happy to know that his music will be performed in
public. We left the subject there, till a week later he calls me asking "What
are you doing on the 22nd of December?" I answer "Nothing, I'm
free!", "Well, book yourself… we're playing my Piano Concerto, I'll tell you
the details later". Destiny has caught up.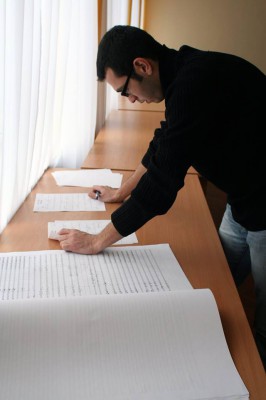 Omar's concerto is the most difficult, yet most rewarding,
piece of music I have ever tackled. It's all in 5/4 with all kinds of rhythmic
challenges, and it is finely orchestrated. Two violins, viola, cello, and
double bass. Add to that drums and Timpani. The music is written in such a way
that no one can afford to slack off on his part. Every note on each instrument
leads to the next note on the next instrument. Which means each of one of us
has to be vigilant with his playing for the sake of the group. Omar would bring
in some complementary rhythm exercises to help us better understand his thought
process in this composition. That was so helpful, as it turned what we felt
were highly complicated passages into much simpler ideas. "Any fool can make
the simple seem complicated, but it takes genius to make something complicated
seem simple", said Charlie Mingus.
The overall rehearsal atmosphere was that of anarchic nature.
Anarchy does not mean chaos as is widely misconceived. Anarchy: The
absence of hierarchy. We all shared our thoughts and gave suggestions on
how we could make this or that sound better. We have moments of collective
laser-focus, and moments of laughter and silliness. Moments of frustration at
not being able to play a passage properly, followed by collective encouragement
and group labor to overcome the obstacle. Everything runs smoothly and we're
all there to make each other sound good. Now we're almost done with rehearsals
and we're feeling very close to completely nailing the music. The way I see it:
December 22nd is a monumental day for me and for Lebanese music.
Omar's concerto is very difficult to play but not difficult to listen to. It's
full of challenges for the performers, but it's full of what makes the Rahbany's
who they are: beautiful melodies. I can speak for each one of us in The
Passport Chamber Ensemble when I say that I'm very much looking forward to perform
more and more of Omar Rahbany's work.