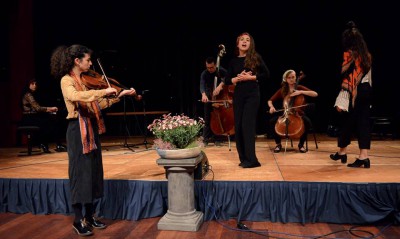 "Improvisation on a Greek Lullaby", photo credit: Jethro Bijleveld
Saturday the 14th of May
2016, was a date that we had been working on for more than 4 months. Rosie
Taekema (United Kingdom), Setareh Nafisi (Iran), Melisa Delgado (Argentina), Anahita Malakooti (Iran), Maria Kritsotaki (Greece) and I had decided to hold an event at our music school, The Prince Claus Conservatory, as a response to all the tragedies happening around us in the
world but that we've somehow gotten used to hearing about with numb
indifference.
Something that had truly bothered us was the
selective solidarity and "compassion" claims that were being signaled to us by Facebook and other media sources. I quoted the word "compassion",
because that's how it was canned and sold, but anyone who knows anything about
compassion, knows that it must not be selective.
A day before The Paris Attacks, 43 people had
been killed by a double suicide bombing in Beirut, Lebanon and over 240 people
were injured, not to mention those whose property had been destroyed. Yet this
received little media coverage, and most reports were smeared with the title
of "Hezbollah territory". While it is true that almost everyone who inhabited that area was a Hezbollah supporter, it was far from a
military base or anything of the sort. It was a residential area full of families and
businesses.
Hezbollah is mostly regarded as a terrorist organization here in
the West, but in Lebanon it is regarded by many as a resistance movement
organized to counter Israeli military expansion. "One man's terrorist, is another man's freedom fighter", but that's a subject of its
own… my point is, when we say "Hezbollah territory" it can be seen
as an attempt to lessen compassion and even breed a feeling of satisfaction of
the "Well they deserve it" kind.
One day later, the Paris attacks get covered
with an intense feeling of mourning and sadness and Facebook gives us the option
to edit our profile picture with the French flag on top. Now that's selective.
Selective and discriminatory. This sort of media behavior intensified the
"us and them" divide between the West and the East. It sold the idea
that some lives mattered less than others and that an attack on Paris is an
attack on humanity, but an attack on Beirut is just that, even though both
attacks were claimed by the same party, ISIS.
Several things of a similar nature had taken place around the world undoubtedly, but that is not the point of this article… Let's now go back to Groningen. We had spent hours
and days brainstorming together on how to direct this event. We decided to
involve artists, musicians, lecturers, journalists and whoever we could
attract that had something relevant and important to say. Although the theme of the event was a global humanitarian one,
without intention, the Syrian refugee crisis began to occupy most of our
thoughts. It was the most immediate crisis we could feel in this part of the
world.
We had a small exhibition for "Meet the
Syrians" a Syrian art collective founded in Amsterdam. We involved
two highly-achieved Syrian classical musicians who played with the Syrian National
Orchestra for two decades but could no longer tolerate the stress of being on
war-torn soil. There was an African refugee who recited a poem he had written
about our human responsibility towards each other. We printed news articles that showed the good side of humanity in times of crisis instead of those that rely on fear
and violence. We had musicians and visual artist from all over the world perform and displaying tributes to these
crises with the care and attention that they deserve.
Many of the attendees were
moved to tears, some were made to think of the notions I mentioned above. Many were
reminded of the fact that human suffering is common to us all and spontaneously
put themselves in refugees' shoes… this is real compassion.
I heard a variation on
this following statement from at least 10 people I got to talk to since yesterday:
"We've been away from our countries only for a couple of years, and even though we know
we can go back after our studies it is still a difficult feeling… We can only
imagine how difficult it must be had we no place to go back to". When people think like
this, then no one would wish harm upon the other, nor would they tolerate
injustice towards each other.
Working together with an inspiring group of
women organizing this event was a true life experience. We managed to divide our tasks and communicate so well, that we never
felt overwhelmed even though none of us had any experience organizing such a
thing. "The World We Live In" was
an initiative to have people realize that we are not as different as we think.
It was a brave attempt to bring people closer and stand next to each and for
each other. This was our first small-scale attempt, and we did a great
job.
– Makram
Edited by: Rosie Taekema